Project Description
24th March, 2021, Shanghai
"It is our pleasure and honour to be accepted as WBA's first mainland China ally in our fifth Anniversary event month." The Founding Director of Shanghai-based NGO Green Light-Year Environmental Service Center, Huan Ni says, "We are happy that we can collaborating internationally to promote the work of achieving SDGs from China."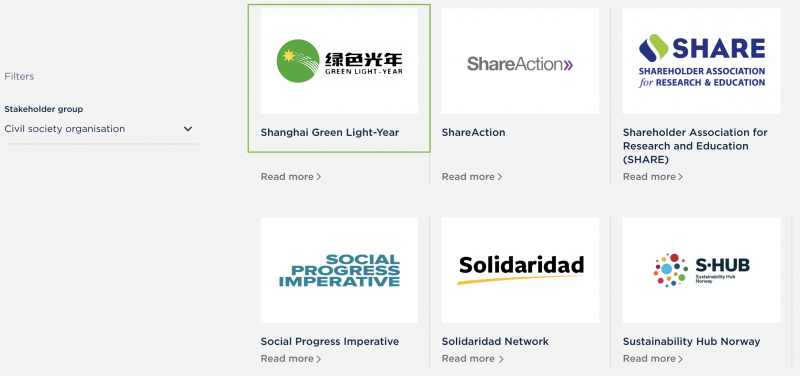 Head-quartered in Amsterdam, the World Benchmarking Alliance(WBA)'s mission is to build a movement to measure and incentivise business impact towards a sustainable future that works for everyone and Green Light-Year's mission is to enable the public to practice concepts of sustainable development with joy.

The private sector has a crucial role to play in advancing the SDGs, but to boost companies' motivation, there needs to be real change in the way that their impact is measured. WBA is benchmarking companies to compare performance on the global challenges the world faces. In January 2020, WBA announced the SDG2000 – a list of the most influential companies by impact on the UN's SDGs to benchmark up to 2023. This list was updated in January 2021, and can be found here(https://www.worldbenchmarkingalliance.org/sdg2000/). WBA will act as an independent, transparent body with a broad group of 200+ Allies to be a successful driver of change. The Alliance helps ensure that benchmarks are used by companies, investors, policy-makers and civil society; and transform our work to create meaningful centres of impact. The benchmarks itself are free and publicly available, and will empower all stakeholders, from consumers and investors to employees and business leaders, with key data and insights to encourage sustainable business practices across all sectors.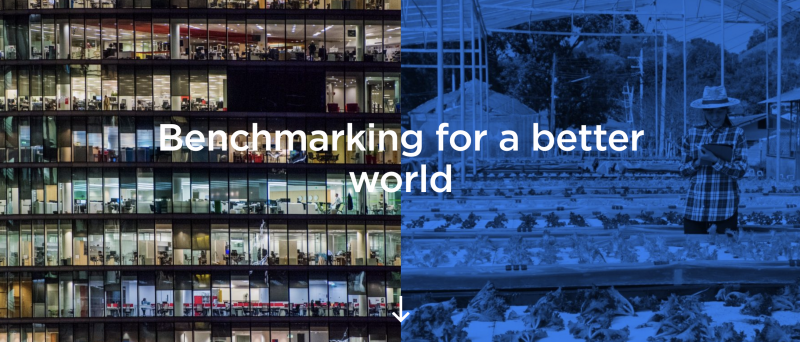 WBA envisions a society that values the success of business by what it contributes to the world. And Green Light-Year's vision is to become China's leading Education for Sustainable Development organization and helps more young people meet the challenges of 21st century.
Green Light-Year expects to work with WBA closely on empowering Chinese youth to understand SDGs better under a global perspective. At the moment, Green Light-Year's Youth Program has developed GLY Youth Research and GLY Training Camp. The Youth Research program uses Project-based Learning (PBL) to encourage young students from age 16+ to participate in the study of edge-cutting SDG-related issues, such as sustainable production and consumption, green jobs, sustainable procurement, etc. This year, we recruited over 100 students from 50 universities from home and abroad to do research about "businesses' science-based targets for climate change", "natural capital and businesses", "conservation finance and financial products", and "nature-based solutions by companies and financial institutions".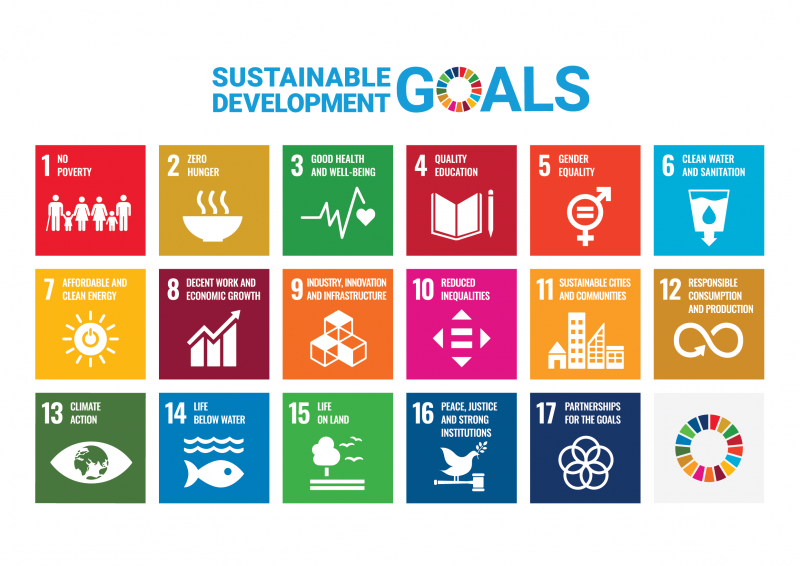 The training camps initiated by Green Light-Year for youth will parachute young students from age 16-24 years old to real eco businesses to finish designated assignments under the guidance of our expert teams during the summer holidays. It aims to provide immersed, real-world "skills + knowledge" service learning to students to help China's small and medium-sized eco-enterprises overcome financial difficulties and non-financial barriers such as corporate social responsibility-related issues. This win-win model has proven successful both for students and for businesses.
Green Light-Year would like to facilitate and bridge more China-based companies to involve in the common cause of sustainable development. WBA will be an important international arena to tell Chinese stories on SDG achievements. At the moment, China mainland businesses presence is relatively low at the moment, only about 246 mainland Chinese companies of SDG2000 list on WBA's data platform (Taiwan 39, Hong Kong 31). We hope more Chinese brands and businesses will be engaged by working with us as well as empowering youth to participate in it.
Green Light-Year will also introduce international best practices via WBA platform to Chinese audiences. We will keep working with China-based partners in universities and business schools to bring good practices from WBA to classrooms. We expect that WBA platform will inspire youth with ambition of participating in SDG-related careers. In addition, we hope good stories introduced from WBA will be helpful for Chinese native companies' ESG compliance.
After joining WBA, Green Light-Year is keen to interact with other partners in this inclusive community. There are 76 civil society organizations from 24 countries and we are proud of becoming a part of this global community. We hope to learn from our peers and share our experiences.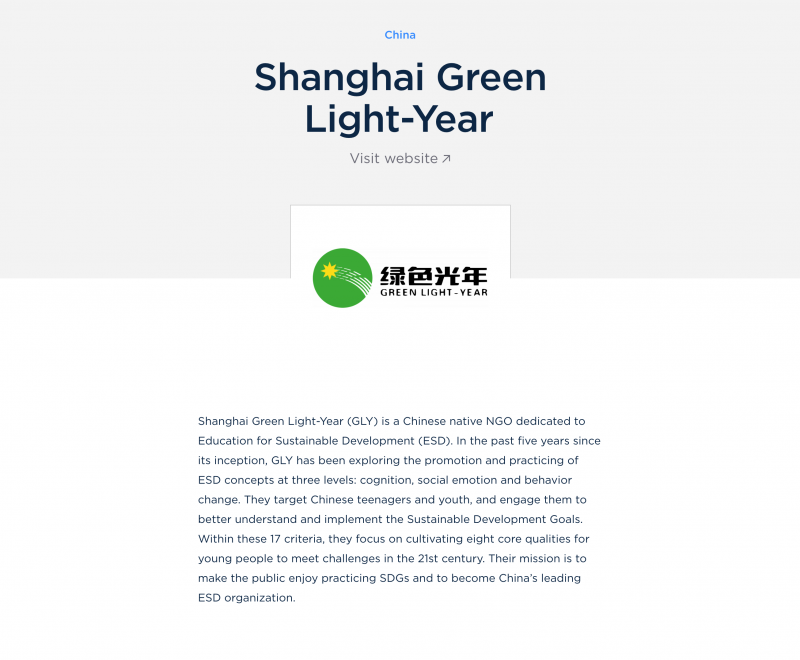 (https://www.worldbenchmarkingalliance.org/wba-allies/shanghai-green-light-year/)
"We are thrilled to welcome Green Light-Year, our first Ally from Mainland China into the multi-stakeholder and global WBA Alliance. We look forward to working together with them to inspire and advance urgent business action on the Sustainable Development Goals. WBA's Alliance of 200+ (and growing) organisations is an inclusive community that brings together organisations that strive towards SDG action in their own, influential and unique ways globally. We consider it extremely important that our Alliance represents diverse stakeholder groups and regions across the world, as part of our mission and thus are honoured to have an NGO voice from mainland China in this community", said Pauliina Murphy, Engagement Director at the World Benchmarking Alliance (WBA).
Green Light-Year will recruit a small but efficient team to conduct some R&D for the collaboration with WBA this year. If you are interested, please fill this questionnaire by scanning the QR code here:
For more information, please visit
Green Light-Year website: 
World Benchmarking Alliance website:
www.worldbenchmarkingalliance.org